Approval seen as a tangible step in the normalization process between Jerusalem and Riyadh, and as a gesture toward U.S President Joe Biden ahead his direct flight on Friday from Israel to Jeddah.
By JNS
Saudi Arabia on Friday announced the opening of its airspace to "all carriers," paving the way for Israeli commercial airlines to overfly the kingdom and thereby drastically reduce flight times from the Jewish State to major destinations in Asia, according to a statement by Riyadh's General Authority of Civil Aviation.
"Within the framework of the Kingdom of Saudi Arabia's keenness to fulfill its obligations under the Chicago Convention of 1944, which stipulates non-discrimination between civil aircrafts used in international air navigation, and to complement the efforts aimed at consolidating the Kingdom's position as a global hub connecting three continents and to enhance international air connectivity, the General Authority of Civil Aviation (GACA) announces the decision to open the Kingdom's airspace for all air carriers that meet the requirements of the Authority for overflying," the Saudi statement said.
The move comes just hours before U.S. President Joe Biden is set to fly from Israel to Jeddah, Saudi Arabia, and is viewed as a tangible step towards normalizing relations between Israel and the Sunni Muslim kingdom.
Saudi officials are also expected to approve direct flights from Israel to Mecca, which will allow Israeli Muslims to more easily make the annual Hajj pilgrimage. Until now, Muslim worshippers had to embark on a lengthy bus ride from Israel to Jordan before boarding a flight to Mecca.
"[Friday's] decision is the result of the President's persistent and principled diplomacy with Saudi Arabia over many months, culminating in his visit today," U.S. National Security Adviser Jake Sullivan, who is accompanying Biden on his Middle East trip, said in a statement released shortly after the aviation announcement. "This decision paves the way for a more integrated, stable, and secure Middle East region, which is vital for the security and prosperity of the United States and the American people, and for the security and prosperity of Israel," the statement added.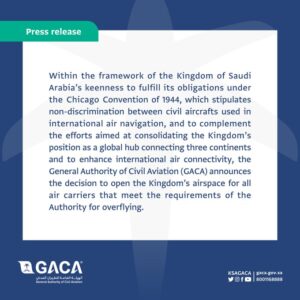 Since the signing of the initial Abraham Accords normalization agreements between Israel, Bahrain and the United Arab Emirates, Saudi Arabia has allowed flights between Israel and several Gulf states to cross through its airspace.
Last week, Israeli defense reporters visited the kingdom and published reports about the experience.
In 2020, then-Prime Minister Benjamin Netanyahu reportedly flew to Saudi Arabia for a meeting with Crown Prince Mohammed bin Salman aimed at fostering bilateral ties.
Lapid hails Saudi decision
Israeli Prime Minister Yair Lapid on Friday hailed Saudi Arabia's decision. "I thank the Saudi leadership for the opening of Saudi airspace. This is only the first step. We will continue working with necessary caution, for the sake of Israel's economy, security and the good of our citizens," Lapid said in a statement released by his office. He also thanked U.S. President Joe Biden for Washington's "commitment to Israel's military and diplomatic strength."
Lapid noted that the decision was preceded by Thursday's signing of the 'Jerusalem Declaration', which deepens the U.S.-Israel strategic partnership in "the fight against the Iranian nuclear program and the advancing of normalization initiatives [like that]of the Abraham Accords."
For his part, Biden called Friday's development "historic" and an "important step towards building a more integrated and stable Middle East region," according to local reports. The U.S. president added that he would do "all that I can, through direct diplomacy and leader-to-leader engagement, to keep advancing this groundbreaking process."
Biden on Friday morning visited the Augusta Victoria Hospital, located on the Mount of Olives in eastern Jerusalem, and then traveled to Bethlehem for a meeting with Palestinian Authority chief Mahmoud Abbas.
Following the meeting with Abbas, Biden will be greeted by Prime Minister Lapid, President Isaac Herzog and other officials at Ben-Gurion Airport, for a small farewell ceremony ahead of the U.S. leader's departure to Jeddah, Saudi Arabia.