Rallies were also held in several other French cities but also abroad, in Tel Aviv, New York, Miami, Rome, The Hague, Brussels and London.
The mayor of Paris, Anne Hidalgo, announced that a street in the city will be named after Sarah Halimi.
More than 20,000 people attended Sunday a rally in central Paris to protest the recent decision by the Court of Cassationn, France highest court,  to absolve the 2017 murderer of Sarah Halimi of criminal responsibility, because he took cannabis before he killed her.
The demonstration, which was held under tight security on Trocadero Square, in front of the Eiffel Tower, saw French Chief Rabbi Haim Korsia demand another "trial of facts," even if it ends without a sentence.
Demonstrators gathered under the slogan "Without justice no Republic.''  "No right without justice", "Justice stoned?" or "Justice for Sarah Halimi" were written on placards held up in the crowd.
Rallies were also held in several other French cities but also abroad, in Tel Aviv, New York, Miami, Rome, The Hague, Brussels and London.
In April 2017, Kobili Traoré, a 27-year-old Muslim man, violently beat Sarah Halimi, his 65-year-old Jewish neighbor, while screaming "Allah Akbar" and other antisemitic slogans, before throwing her to her death out of the window of her third-floor apartment.
A lower court ruled that Traore was not criminally responsible for his actions because his intoxication with cannabis before the attack compromised his "discernment."
Two weeks ago, the  Court of Cassation upheld this decision, ruling that the law, as it stands, does not distinguish between mental impairment due to disease, or the voluntary intake of narcotics. The decision sparked anger in the Jewish community and abroad.
Lawyers of Sarah Halimi's family have announced that they would bring the case to the European Court of Human Rights and also to Israel's courts.
French Justice Minister Eric Dupond-Moretti tweted Sunday that he will present, following a demand of President Emmanuel Macron, a bill at the end of May to to plug a legal vacuum in French law regarding the consequences of the voluntary use of drugs.
Macron earlier this week called for a change in the law. "Deciding to take narcotics and then 'going mad' should, not in my view, remove your criminal responsibility," he said in an interview with daily Le Faigaro.  He also expressed his support for Sarah Halimi's family.
The mayor of Paris, Anne Hidalgo, who was present with many personalities at the demonstration, announced that a street will be named after Sarah Halimi in Paris.
"We all feel like Sarah Halimi's soul. Her memory must be honoured. This is what we will do, there will be a Sarah Halimi street," she said.
"There has been an anti-Semitic crime, we must demand justice for Sarah Halimi with a new law.  We must continue to fight against antisemitism. And our Republic must be there to fight this anti-Semitism", she added.
Hundreds of demonstrators attended the protest in Tel Aviv outside the French embassy and another gathering was at Jerusalem's Independence Park. They held up placards reading "Jewish lives matter," "Justice for Sarah Halimi," "Shame on France," and other slogans.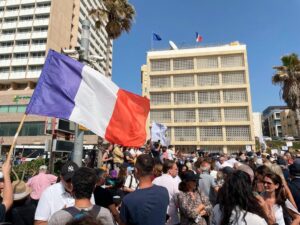 Israeli Diaspora Affairs Minister Omer Yankelevich warned of the danger of allowing Halimi's killer to walk free under such circumstances.
"From Tel Aviv to Paris, the Jewish people in Israel and around the world stand united in solidarity with the Halimi family and the French Jewish community," the minister said.
"Sarah Halimi was murdered only because she was a Jew. Especially today, with the alarming rise in radical Islamic antisemitism throughout France, this court ruling sets a dangerous precedent that jeopardizes the security and well-being of our brothers and sisters in France," she said, adding that Israel would do "all in its power to ensure the safety of all Jews" around the world.
In London, the British community held a demonstration outside the Embassy of France, joining a day of global protests by Jewish communities around the world.
Campaign Against Antisemitism Chief Executive, Gideon Falter, who organized the rally, said "During the Holocaust, French authorities were too often complicit in the genocide of French Jews. After the war, the nation vowed to defend what remained of its Jewish population. The decision of France's highest court that torturing and throwing an elderly Jewish woman out of a window cannot be ascribed to following a decision by France's highest court to spare an antisemitic murder from trial because he was high on cannabis at the time that he committed his crime.''