In a video message shared on social media, British Prime Minister Boris Johnson wished the Jewish community a Happy Passover.
Speaking about the "Zoom seder" in a time of pandemic, he said: "Even second time around, it's not quite what everyone is used to, but the haroset will be just as sweet and the matzah just as meaningful.'' "And you get something generations of Jews have dreamed of for millennia: the ability to mute the table's inevitable kvetch."
"While families, friends and neighbors can't come together as they usually would, I know our fantastic Jewish community — known for its strength and resilience — will celebrate this Pesach safely," he wrote.
"Sadly for the second year in a row, this most sociable of festivals is taking place at a time when families and friends and neighbors are unable to come together as they usually would," he said.
More than 44% of the British population has received a first dose of the coronavirus vaccine and the infection rate is dropping.
In Washington, U.S. President Joe Biden wished "Chag Sameach" in Hebrew in a video message. He added that he hopes that next year, families will be able to celebrate together. "We can close the Seder by adapting a familiar refrain, not only next year in Jerusalem, but next year in person. Next year together."
"As Jewish families across the country and around the world mark this important tradition, we know you're all sitting to the Seder table with heavy hearts, but also with hope for the year ahead," the president said. "As we continue working to defeat this pandemic and continue to confront discrimination and prejudice, as we seek to rebuild from a time of struggle and loss, we need the inspiration of Passover now more than ever."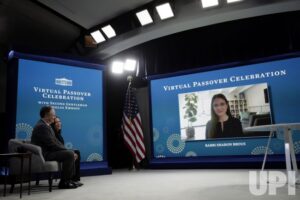 The White House hosted a virtual event on Thursday to celebrate the 8-day Jewish  holiday. Doug Emhoff, Vice President Kamala Harris' husband, who is Jewish, led a Zoom event open to the public.