A joint U.S.-Israel delegation led by senior Trump adviser Jared Kushner and Israeli National Security Advisor Meir Ben-Shabbat is aboard.
El Al Israel Airlines operates Tuesday its first direct flight to Rabat, capital of Morocco.
The flight carries a joint U.S.-Israeli delegation.The direct flight took around six hours and comes after a U.S.-brokered normalization deal between the two countries earlier this month.
Senior adviser to U.S. President Donald Trump Jared Kushner, who arrived in Israel on Monday to meet with Prime Minister Benjamin Netanyahu, is leading the U.S. delegation, which will also include U.S. Middle East envoy Avi Berkowitz and Adam Boehler, chief executive officer of the U.S. International Development Finance Corporation.
The Israeli delegation is led by the country's national security adviser, Meir Ben-Shabbat.
"The state we have lived in for the last 75 years, where Jews and Muslims have been separated, is not a natural state," Kushner said.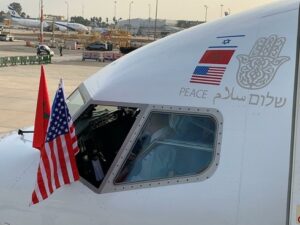 "What we are seeing now is a restoration of that norm and coming to a place where we can have that understanding – that will bring us to a much more peaceful Middle East and a much more peaceful world," he said, adding : "Hopefully, it will pave the way for another warm peace between Israel and Morocco."
Ben Shabbat said that "history is being written before our eyes."
During the visit, Ben-Shabbat and Kushner will see Morocco's King Mohammed VI.Israeli officials said. Moroccan and Israeli officials are also scheduled to sign accords on linking up aviation and financial systems, on visas and water management.
Morocco is the fourth Arab and Muslim country to agree to normalize ties with Israel under the US-brokered Abraham Accords. The United Arab Emirates and Bahrain have ratified deals with Israel while Sudan and Morocco have issued declarations.