A resolution adopted Wednesday insists that EU aid must be made conditional on educational material's compliance with UN values and the removal of hateful content
UNRWA worked intensively to block the resolution; Palestinian Prime Minister addressed parliament's foreign relations committee to defend textbooks 
The European Parliament adopted Wednesday an unprecedented resolution condemning UNRWA, the United Nations Relief and Works Agency, for teaching hate and incitement to violence in its schools.
The resolution demands that hateful material be "removed immediately" and insists that EU funding "must be made conditional" on educational material promoting peace and tolerance.
The resolution is part of the EU's annual budgetary procedure which scrutinizes how European taxpayer funds have been spent through projects carried out by the EU.
IMPACT-se, the Institute for Monitoring Peace and Cultural Tolerance in School Education,  an Israeli non-governmental organization played a crucial role in initiating the adoption of these measures, working on the ground alongside dozens of parliament members from across the political groups in Brussels over the past six months.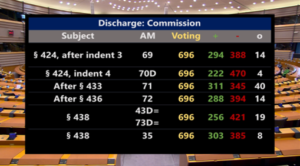 The legislation was adopted despite an intensive lobbying campaign by UNRWA and the Palestinian Authority in the European Parliament to stop the resolution. One week before the vote, Palestinian Prime Minister Mohammad Shtayyeh addressed a meeting of the European Parliament's Committee of Foreign Affairs in an attempt to defend the Palestinian curriculum taught in UNRWA schools.
Earlier this month in a speech to the UN, UNRWA's Commissioner General Lazzarini called for the protection of UNRWA's education program from a "nasty and incessant" "defamatory campaign" against the Agency "aimed to weaken its mandate, harm its reputation, and erase the Palestinian refugee issue by trying to strip UNRWA from its funding base."
UNRWA's own teaching materials were placed in the international spotlight following two reports published in January and February 2021 by IMPACT-se that found material created, printed, and distributed by UNRWA contained content that rejects peace and glorifies terrorism and incitement to violence.
An IMPACT-se report has showed that school material distributed by the U.N. Relief and Works Agency (UNRWA) continues to glorify Islamic jihad and incite violence in 2021 despite promises by UNRWA that the hateful content would be removed.
It found that "a spelling exercise created by UNRWA condemns peace and normalization agreements between Israel and Arab states"; "another exercise describes 'pieces of corpses' being dispersed throughout city streets to teach grade-nine spelling"; and Israel, a U.N. member state, "is solely referred to as 'the Enemy' or 'the Occupation' and is erased from maps of the region."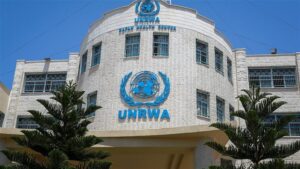 IMPACT-se first published the report in January about the existence of this material, which "egregiously violated U.N. values, UNESCO standards, and UNRWA's stated principles," stated the organization. The material covered by the original report was distributed from March 2020 to September 2020.
UNRWA confirmed the existence of what it called "inappropriate material," explaining that it had been "mistakenly" distributed to students at the beginning of the COVID-19 pandemic to aid distance learning.
''This is an important step in the fight to prevent UNRWA from inciting many thousands of children every school-day to violence, extremism and antisemitism. It is the very first time a legislature has stepped up said to UNWRA, 'enough'.,'' commented Marcus Sheff, CEO of IMPACT-se.
He added, '' UNRWA's reaction to the legislation is just another indication of its profound malaise. Instead of honest reflection and a determination to do better, it concentrated on lobbying efforts that rolled out the same disingenuous and debunked claims. But today, the European Parliament has shown the way for all those who do not want to write blank checks to this deeply flawed organization. It is now crustal clear that an external audit of UNWRA's teaching materials is necessary before millions of taxpayer dollars are transferred to finance the daily radicalization of children.''