JERUSALEM—On the eve of Passover, the Jewish holiday of redemption, a heartwarming ceremony took place this week in Israel's Air Force Base in Chatzerim.
In a highly-emotional moment, caps and wings were awarded to a new squadron of soldiers with special needs who volunteer in the logistics corps of the IAF in the framework of the Special in Uniform project.
Parents and siblings wiped away tears of emotion as Res. Major Tiran Attia described the positive effects and actual social transformation transpiring in the IDF as a result of these dedicated soldiers.
"Special in Uniform began with a very small number of soldiers, and today, we have several hundred soldiers serving in bases throughout the country. This model is a paradigm for other militaries in countries  around the world, proving how individuals with special needs can surely be absorbed by the army."
Among the celebrants at Chatzerim were Ahuva and Avraham, parents of Or, a young man with special needs who was successfully inducted into the IAF. Avraham, the father, arrived in Israel from Ethiopia in the framework of Operation Moses, a covert evacuation that brought thousands of Ethiopian Jews from Sudan during a civil war and brought them safely to Israel. The operation, while deemed successful, came at a very high price as over 40,000 Jews perished in desert Sudan on their way to Israel.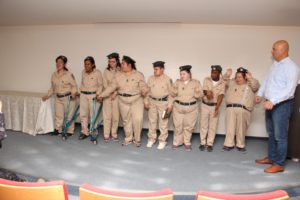 Avraham was inducted into the IAF in 1987 and completed his full regiment of service. "This takes me back years to my first days in the army… Today my son is serving…. These kids gain so much from the love and warmth of good people in this country. It's not something to take for granted and it fills me with pride and love for our country," he said.
The climax of years of effort, Special in Uniform is a joint project of the Jewish National Fund (JNF), IDF and Lend A Hand To A Special in Uniform. This program integrates youth with physical and mental disabilities into the IDF, imbuing them with pride in themselves and their abilities and enabling them to function independently and contribute positively to society.
Representing the JNF, Yossi Kahana says, "When we launched this project, people raised their eyebrows and challenged us, 'In an Armed Forces as advanced as Israel's, where will you find the place to integrate individuals with special needs? And even if you do manage it, they will be integrated into the non-essential units.
"Several years after the original skeptics doubted our dream," continued Kahana, "our wonderful soldiers have integrated beautifully among the crème of Israel's Armed Forces—the coveted IAF—where they are treated as equals." Special in Uniform accentuates a soldier's ability, not his disability, and builds his self-confidence and skills in order to foster independence and enable him to integrate into mainstream society despite physical challenges.
 The Special in Uniform program commences with a 10-day pre-induction training program course. Thereafter, the new soldiers are incorporated into a variety of units as part of military manpower.
The job experience during army service endows them with tools and skills that eventually facilitate their entry into the public workforce. Throughout the program, the soldiers are mentored by a team of highly-experienced, dedicated professionals who invest boundless energy into the soldiers and shower them with warmth and love. The team consists of a psychologist, social worker, and instructors who have undergone professional training.
Shelly, Or's sister who recently completed her mandatory service with the police, expresses emotionally, "Seeing my younger brother in uniform isn't something I take for granted. As a sister to a fantastic brother with special needs, my message to siblings is 'Never be ashamed of such a family member! Be proud of them and give them the tools to forge ahead, because these amazing kids can break through any barrier."