JERUSALEM—The last polls to be published before Tuesday's Israeli general elections predict that the Blue and White party led by Benny Gantz has a small lead over the Likud, but Benjamin Netanyahu will find it easier to forming a 61-majority government.
Israel Hayom's poll predicts that Blue and White will win 5 more seats in the 120-seat Knesset than Likud (32 to 27), Yediot and Channel 12 News predict that Blue and White will win 4 more seats than Likud (30 vs 26), and Maariv one more seat (28 vs 27). Israel Hayom's poll predicts that right-wing party Yisrael Beitenu and Arab party Balad-Raam will not win any seats as they would not reach the 3,25% treshold.
All the polls show incumbent Prime Minister Benjalin Netanyahu will find it easier to form a governing coalition, which would include Yisrael Beitenu, United Right, New Right, Kulanu and the right-wing libertarian Zehut party (the only right-wing party yet to commit to join a Netanyahu-led government).
The fate of the small parties could ultimately decide who forms the next government.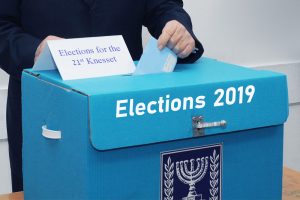 However, speaking to the Times of Israel, Blue and White party co-leader Yair Lapid said: "There have been 20 governments in Israel's history. Nineteen of them were formed by the winner [of the most seats]. Only one was not and this case, with Tzipi Livni [at the head of Kadima in 2009]was a very extraordinary case. Basically if you win in a definitive way, you're going to form the government. This is the way of politics. Can you imagine somebody with three indictments, who lost the election, being asked to form a government? It's not going to happen."
Lapid suggested that Likud could quickly remove Netanyahu if his party defeats Likud decisively. He said: "There's a huge underground bitterness within Likud. One of Bibi's biggest flaws is that he doesn't allow anyone to flourish next to him. He's making sure people are held down to the ground. Nobody likes it. As long as he's in power they're going to be cautious about it. But you can hear the first voices [of dissent]coming out of Likud. And they talk to me. The minute he will lose some ground, there will be a reaction."
In a poll, Israel's Channel 12 asked respondents who they would prefer to see as prime minister, with 37 percent of respondents answering Netanyahu, 35 percent Gantz and 18 percent neither. However, asked who they believe would form a governing coalition, 58 percent said Netanyahu.
In addition, the Channel 12 poll asked respondents about a national unity governmennt which would include both Netanyahu and Gantz. Thirty-seven percent voiced their support, 36 percent opposed, and another 37 percent said they do not know.